Domestic Piped Natural Gas (PNG) is the natural gas supply for domestic use to households located in societies, tenement houses, colonies, multi-storey apartments or any other residential areas. PNG is supplied to your kitchen through a pipeline directly connected to gas stove thus ensuring a seamless, interruption free, constant supply of cooking fuel.
WHY CHOOSE PNG ?
➦ SAFETY :  PNG is a safer than LPG cylinders.
➦ USER FRIENDLY : You skip the hassles of booking, waiting, handling or storing of the heavy cylinder.
➦ ECO FRIENDLY : Natural gas is a cleaner burning fuel that has less impact on the environment.
➦ POCKET FRIENDLY : You save 20% more of your costs by opting PNG over LPG.
➦ ZERO PILFERAGE.
UNDERSTANDING DOMESTIC PNG
1. WHY NATURAL GAS IS SAID TO BE ECO FRIENDLY ?
Natural Gas is mainly Methane - CH4 with a small percentage of other higher hydrocarbons. The ratio of carbon to hydrogen is least in methane and hence it burns almost completely making it the cleanest fuel. It is produced from the oil / gas wells and transported through a network of pipelines across the country. Presently over 35 lakhs domestics PNG connection are present in India.
2. WHERE IS NATURAL GAS STORED ?
Unlike LPG, Natural Gas does not require storage cylinders. The pipeline ensures constant flow of fuel to your household through a countrywide distribution pipeline.
3. HOW DOES GAS PIPELINE REACH OUR HOMES ?
GNGPL gets the source natural gas through the main transportation pipe and receives it at city gate station and steel grid network. To regularize the pressure of the gas, District Regulatory System is installed. Further a network of MDPE (Medium-density polyethylene), is developed to reach to different societies and building etc. The regulator, followed by raiser with GI pipeline is installed which is connected to a meter. A copper pipe and further rubber tubing is done to get PNG reach to stoves.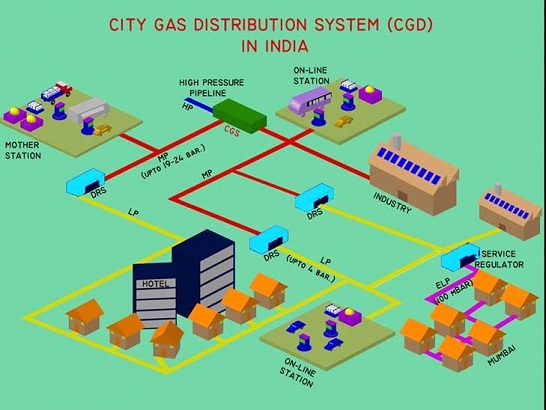 4. DO WE NEED TO UPGRADE OUR KITCHEN FOR A NEW PNG CONNECTION ?
No. GNGPL ensures seamless conversion experience from your existing LPG to PNG. GNGPL provides the PNG connection to your kitchen cook top along with installation services including necessary supporting fittings, pressure regulator and meter. PNG works on a cooking appliance just like LPG does. It is not required to change the appliance, with minor modifications LPG appliance can be easily converted to PNG.
5. IS THE SUPPLY OF PNG REGULAR ?
Yes, the supply is uninterrupted. The pipeline distribution network is based on an on-line supply system that consists of safety valves and regulators that control and monitor the gas supply and pressure, and assist in identifying system leaks. Thus an uninterrupted supply at a constant pressure is assured. The gas is available 24x7.
6. CAN PNG BE USED FOR ANY OTHER PURPOSE APART FROM COOKING ?
PNG can be used for heating, air conditioning, power generation etc. However at present GNGPL is providing PNG only for cooking purposes in the domestic sector and for industrial use.
7. WHAT ARE THE BENEFITS OF PNG OVER LPG ?
|   | PNG | LPG |
| --- | --- | --- |
| SAFETY | PNG is lighter than air so in case of leakage it disburses faster eliminating the possibility of spontaneous flammability. | Since gas is compressed in the cylinder there is always a high risk of  fatal accidents causing casualties and fire. |
| PILFERAGE | Eliminates all possibility of theft as the connection is through pipeline right to your cook top. | Possibility of pilfering by lesser fuel fill in. |
| NO ADULTERATION | No possibility of adulteration. | Adulteration possible. |
| BETTER VALUE FOR MONEY | You pay only for gas used as detected by the meter. This does away with the possibility of paying more for lesser use. | The fuel left at the at bottom of the cylinder always lead to extra payment for fuel that cannot be used. |
| CONVENIENCE | 24×7 Uninterrupted supply without any need of booking . | Hassle of booking cylinders before due date to avoid inconvenience. |
| PAYMENT | Postpaid | Prepaid |
| PRICE OF GAS | Cheaper than LPG. | The non subsidized rate is applied for after 12 cylinders in a year. |